Mainichi Shinbun - During Patrick Thibedi's (Chamusso's) visit to Japan, Dancing4Kids organised a special interview for Patrick with Mainichi newspaper to spread awareness in Japan about the children of Two Sisters in South Africa. The article was published on February 8th 2012. Click below to view:
Mainichi Shinbun online article
Japan Times - Dancing4Kids featured in an article about our participation at the Rock Challenge Japan performance in Tokyo on November 19th 2009. Dancing4Kids teamed up with Mondesign and Austrian Ballet School and performed under the theme "Kids of dreams!
Read article here See clip with highlights here

Mammoth Kids Magazine- Dancing4Kids arranged an exquisite interview between Patrick Chamusso and Mammoth Kids for their latest issue dedicated to Peace. Photographs featured were shot by our official photographer Red Baklava at the Two Sisters in South Africa.

Japan Times - article covering our Dancing4Kids variety Show July 2009 We thank the Japan Times for taking the time to join our show and do a great coverage about our event!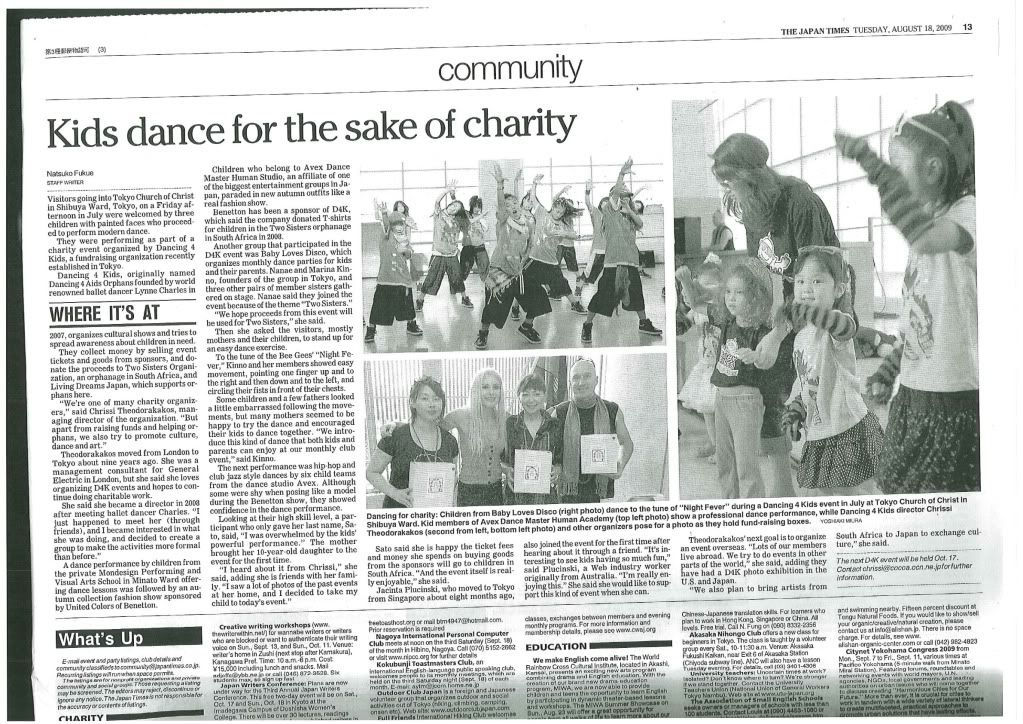 Read article on-line
Japan Times D4K variety show.jpg
Dancing4Kids interview by Metropolis- Japan's No 1 English magazine:
Visit the "News" tab for more details!