October 2013
"Dancing e-motions" by Dancing4Kids
Introducing you to our friends from around the world who danced with us to bring gifts and love to the children and communities we support. "Dancing e-motions" is a dancing chorus where we, our artists/ supporters and the children of Two Sisters dance together to connect and share our love. "Dancing e-motions" flow from Japan to South Africa and back. The show is always on! ;-)
"Dancing e-motions" by Dancing4Kids
"Art in Motion" fundraiser by Dancing4Kids
On Thursday Oct 17th at Oakwood Premier Tokyo, we had yet another fundraiser, a combination of art (live body paint by french artist Francoise Lions) and dance (children dance for Africa). It was a colorful evening full of energy and joy and we were able to raise ¥50,000 for the children of Two Sisters in South Africa! We thank everyone who supported us!!
Video: Introducing you to our little friends
July 2013 - Dancing4Kids has become an official member of the International Dance Council of UNESCO !!
July 27th 2013 - Dancing4Kids sent 100,000 yen donation raised from our summer events, to Two Sisters AIDS centre for children in South Africa!
June 29th 2013 - Our event "Waka-Waka - This time for Africa" Interactive Drumming & Dance Fundraiser, was a wonderful success with our very own version of Waka-Waka dance officially launched then! Our collaboration with Drum Cafe Japan made the event all the more exciting and we received rave reviews from all our guests. For event details HERE . For post event comments & images click HERE
April 2013 - our "Artists across borders" project is officially launched. Related events in May are:
1 - Saturday May 11th - TEDxTokyo 2013 with participation from our artists Dimitris Vassilakis (Greece), Makoto Kuriya (Japan) , organised by TEDxTokyo
2 - Thursday May 16th: Dimitris Vassilakis (Greece), Makoto Kuriya (Japan), performance organised by Dancing4Kids in collaboration with Oakwood and DKSH
Check details of all the events related to "Artists across borders" HERE
December 2011 - Patrick Chamusso visits Tokyo and a series of events and activities takes place in support of Two Sisters. Dancing4Kids collaborates with Drum Cafe Japan in a special event to support South Africa and Japan.
"Smile one beat at a time" Event: Tuesday December 20th 2011
We are very pleased to announce that our Christmas event was a great success!! Many of our friends who joined us gave us the most wonderful feedback and encouraged us to continue to do more! Apart from the amazing entertainment and interactive drumming, we were able to raise JPY130,000 for the 2 projects we supported. An extra JPY40,000 was handed out in support of Two Sisters AIDS centre in South Africa so a total of JPY100,000 was given to Patrick Chamusso (founder of Two Sisters) who attended our event as our very special guest. The Niko Niko Smile project received JPY 65,000 and this year we hope to work closer with Drum Cafe Japan and support Japan through this wonderful project.
For more detailed report on this activity click here
May 2011 - Special Collaborations with TEDxTokyo, SACCJ & FCCJ

On May 21st Patrick Chamusso was featured at the amazing TEDxTokyo 2011 "Enter the Uknown", http://www.tedxtokyo.com/ which was viewed live, online by over 50,000 people around the world. We thank TEDxTokyo for giving us this unique opportunity to get involved!

On May 19th Patrick Chamusso joined us through SKYPE for a very special charity event hosted by the South African Chamber of Commerce Japan (SACCJ) in collaboration with the Foreign Correspondents Club in Japan (FCCJ). He shared encouraging words, showed his love for Japan and the victims of the earthquake disaster as well as great appreciation for all the support he has received from Japan during the recent years.
http://animoto.com/play/D4JN1XJwB01p3qvdTAPr7w
December 2010 - February 2011

Ms. Drue Kataoka, a modern artist of numerous talents who joined our group in 2010 after her appearance as a speaker in TEDxTokyo has given us plenty to look forward to this year as well.Her first contribution was given to us in the Spring of 2010: a gift of her art in support of Patrick Chamusso's Two Sisters Orphanage and Dancing4Kids - two very special wine magnums carrying Drue's art from her recent TEDxTokyo project reached the premises of Dancing4Kids in Tokyo. One of the bottles was a gift from Drue for Mr. Nelson Mandela and the other was from the co-founder of TEDxTokyo, Mr. Todd Porter for Mr. Patrick Chamusso.
October 2010
October 19 - Botswana Cultural Night in Tokyo
In support of the children of Botswana Dancing4Kids attended this extraordinary event which featured a traditional dance troupe, Dipela tsa ga Kobokwe (apparently translates as "The Rock Rabbits") as well as contemporary band Banjo Mosele & Veterans. Banjo was one of the original founding members of the Kalahari Band that recorded with Hugh Masekela in the 1980's and is active on the European jazz scene, so this should be fun! President Khama was also in attendance.
September 2010
On September 22nd SACCJ hosted the premier of our new music video "The Ordinary Man". This is the first part of our special film project planned for release at the end this year. The music video features a group of amazing performers from Cirque Du Soleil ZED, our young friends from Mondesign, and the children we support in South Africa together with their "father", the world renowned humanitarian Mr Patrick Chamusso. The song "The Ordinary Man" was made for us by the american band "The Beautiful Losers" and was written about Patrick Chamusso, who calls himself an ordinary man.

We were delighted to have our performers & team join us among the other amazing guests and members of SACCJ. This special party was a combined event of gorgeous South African wine tasting and our music video Premier. During the opening of the event some of our Cirque Du Soleil friends gave us a fabulous performance with electric violin (by Paul Lazaar - ZED), tap dance (by Anatoli Akermann - ZED) and acrobatic act (by Semion Bazavlouk - Battle Beasts). The background was filled by fantastic images of our Cirque Du Soleil team, taken by our award winning photographer friends from 37Frames Photography, during the making of our video. The evening closed with a short performance by the Japanese/South African pop-singer Baby M (also Ambassador of Music between Japan and South Africa) and a special ruffle draw where 10 colorful ostrich leather wallets donated to us by Horiuchi Trading Co were given as prices to our wining guests.It was an unforgettable night for all of us and we thank SACCJ for donating 500 yen per ticket to our cause (benefiting the children of Two Sisters in South Africa) and for generously supporting our project.

The video from this party was recorded by Cris Umbermann TELEMAK FLMS), who is also the videographer of our new production, "The Ordinary Man".





Click here to view feedback about this event by our friends from 37Frames photography!

July 2010
Dancing4Kids in support of the Tyler Foundation in Japan:
July 16 2010: Please mark your calender for an exciting fundraiser hosted by the Japan Wine Challenge 2010 where proceeds go to the Tyler Foundation to support children with cancer. Event information

June 2010
SACCJ Summer Celebration Party – Supporting SAPESI-Japan: The party was a great success! A hearty thanks to all of those of you who came out on the wet evening of 18 June for the SACCJ Summer Celebration Party! We had yet another record turn-out despite the rain. In addition to the buffet, South African wine and Castle Beer, the gathering enjoyed several rousing performances during the evening by the incredible Drum Café, and were also treated to a special appearance by South Africa-Japan Music Goodwill Ambassador Baby M.Below are photographs taken by Chrissi Theodorakakos during the event.


April 2010
Dancing4Kids in support of the Tyler Foundation in Japan:
It is more than devastating to have your child misdiagnosed and see him/her die of cancer a few months later.. The Tyler Foundation, founded by Mark Ferris and his wife Kim, and named after their 4 year old son Tyler who they lost some years ago, is trying to prevent this from happening. Please check out the Tyler Foundation next fundraiser on April 11th with Scott Macintyre. This event has excellent merits - both entertainment-wise and child-support-wise.
Also, here is Kamasami Kong with a podcast about it:
MRVR 2010-03-30 for TUESDAY(Sarah and Laurean with Kim Forsythe about Scott MacIntyre).mp3


February 2010
Valentines Day special with Baby Loves Disco Japan & Little Marc Jacobs supporting Dancing4Kids Click here for details
BLDJ_LMJ2010_PressR_EN_020110.pdf


MEET Ben Southall in Tokyo on Tue February 23rd!!! A friend of Dancing4Kids and a member of the South Africa Chamber of Commerce Japan is organizing and event to meet Ben Southall, the Brit who beat 35,000 other contestants to win of the "Best Job in the World" while he is in Japan later this month - this was all part of a Tourism Queensland promotion which became a global PR phenomenon and won virtually every global communications award last year.The party will be at the Westin Hotel in Ebisu on Tuesday February 23rd when Ben will show slides and tell his amazing story. Cost: 6,000 yen incl food & 2 drinks. If you wish to attend please send an email to Anthony Willouby: anthony@iwnc.com
Flyer: PDF CampFire Invitation.pdf Read article about Ben Southall


January 2010
Dancing4Kids sends another donation of 10,000 ZAR to the Two Sisters!!!

December 2009 A very active month comprising 2 major events: SACCJ Christmas party supporting Dancing4Kids and "Get Festive & Dance" D4K Xmas party. For details please visit the Event Highlights page. Dancing4Kids sent a total of 10,000 ZAR to the Two Sisters.

November 2009 Japan Times - Dancing4Kids featured in an article about our participation at the Rock Challenge Japan performance in Tokyo on November 19th 2009. Dancing4Kids teamed up with Mondesign and Austrian Ballet School and performed under the theme "Kids of dreams! Read article here
See clip with highlights here
Dance Fusion Extraordinaire performance update:
A great success with an amazing performance by ABC Tokyo and Mondesign, a truly touching presentation by our sponsor, CEO of Rooibos Mktg Japan Mr Clinton Gass and other non-profit groups who joined us to share their activities to the public. Beautiful photography by David Stuchbury and camera interviews capturing the thoughts and impressions of our participants and audience. Amongst our wonderful guests was His Excellency the Ambassador of South Africa in Japan Mr Gert Crobler, as well as top business executives and stuff from the South African Embassy. We thank our guests, performers, volunteers and all participants for their amazing support!
Dancing4Kids Variety Show 24 July 2009 - Original acts by top performers captured the interest of our audience! Our shop and raffle tickets helped us raise more funds for our children. Thank you to those who joined us and supported our cause.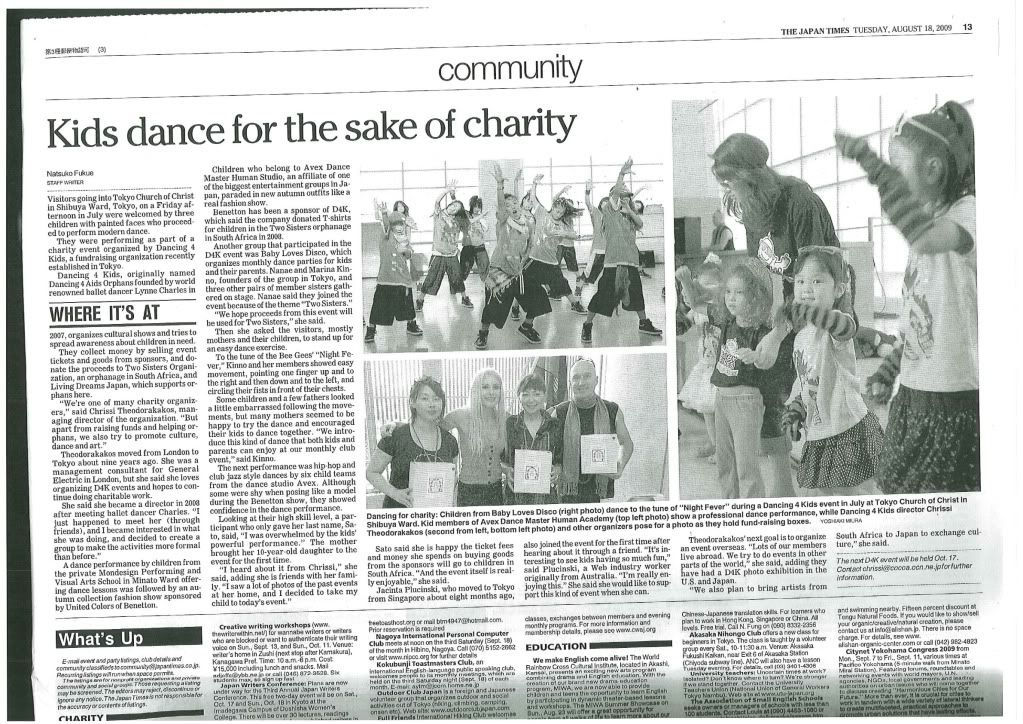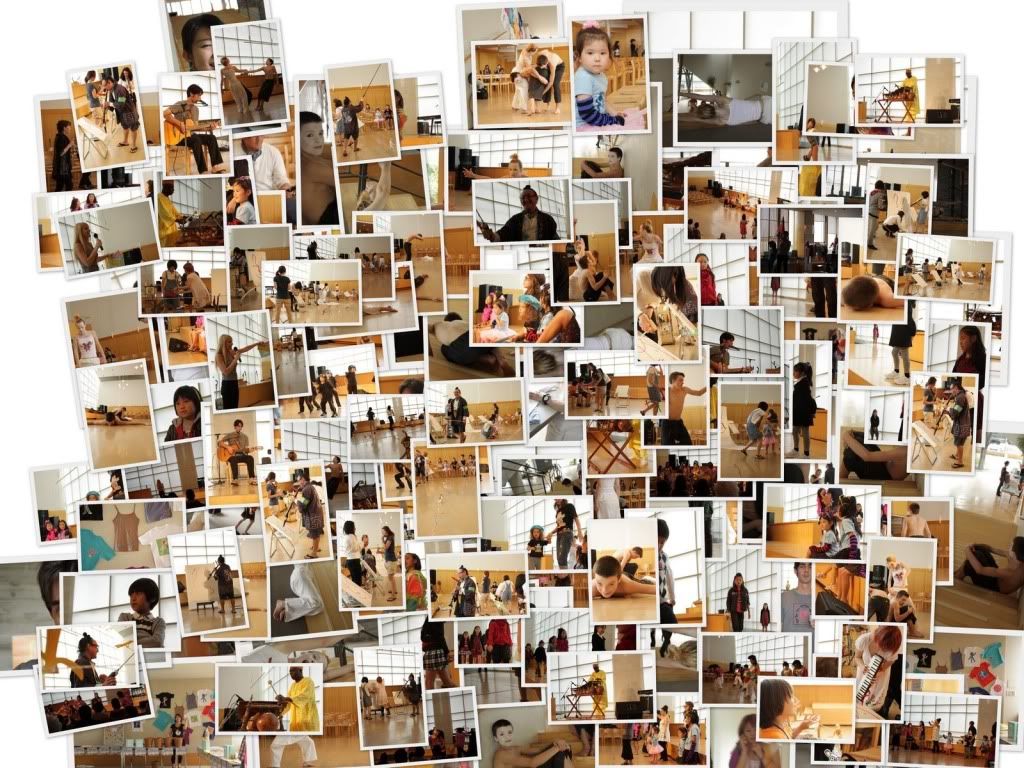 May 31st: New Collaboration with Baby Loves Disco Japan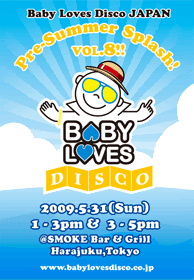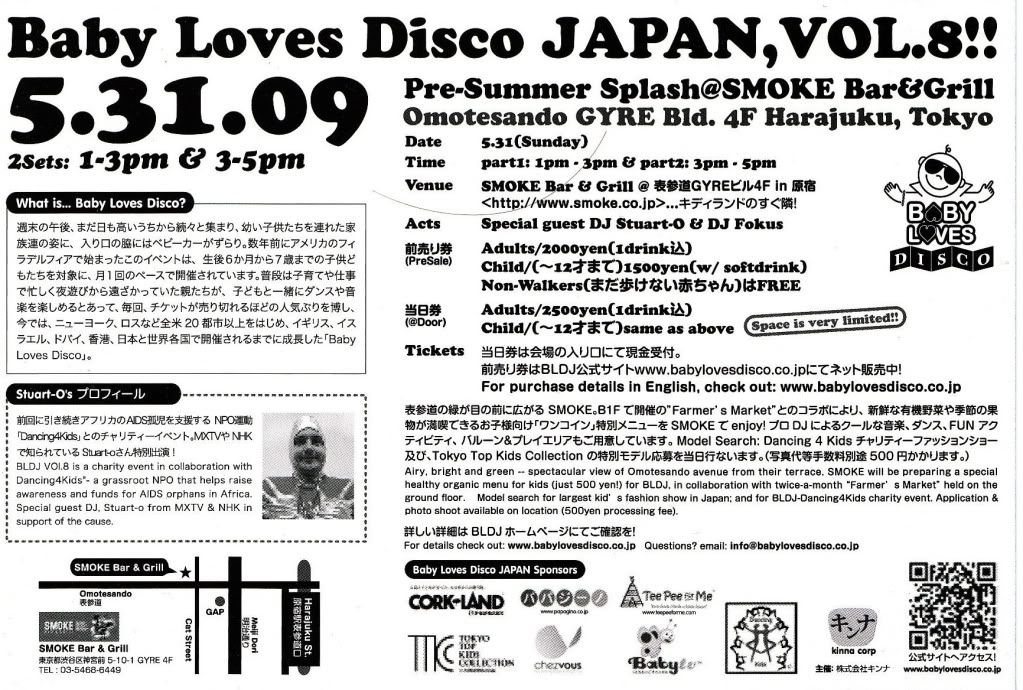 Click here for more details

April 2009
Outline of Dancing4Kids Events 2009

Our theme for 2009 is "children performing for the benefit of children in need". We are working with young artists of incredible talents and top entertainers who have dedicated their time and outstanding work to help Dancing4Kids raise money for the benefit of children that need our help. We are very proud to present the performances below and we hope to see you in all of them.


Saturday October 17 2009 - A tribute to Michael Jackson with Ballet and Modern Dance - Steve Tomlinson from USA and Rio Mitani from ABC Ballet Company worked together to create a new and exciting performance with tap-dance, hip-hop and ballet fusion in an original style as a tribute to Michael Jackson. In addition to the above we will perform a beautiful classical ballet piece "Ls Sylphides", as well as the so far incredibly successful and modern "Japanism" which we run before received amazing reviews. A show produced to entertain, promote culture and educate audience of all ages. An experience not to be missed.

March 2009:
Our New Dancing4Kids PODCAST is up and running. It is run and hosted by the TV personality and host of Tokyo Metropod STUART-O, who is prepared to interview and promote our sponsors, collaborators and artists upon request. Our podcast is also used to promote our events and activities all year round!!! Thank you Stuart-O for your outstanding work!!!
You can visit our new PODCAST page HERE


March 15 2009
Our first event of the year!!!!!!! Dancing4Kids is given the great opportunity to join Baby Loves Disco Japan for an Amazing disco night for kids introducing our friend and member AFRA, who is the No 1 Human Beatbox in Japan to perform infront our little friends and their families. We will also talk about our work AND give many-many gifts to those who join our campaign!!!!
Click here for more details


February 20 2009
We are delighted to have "Baby Loves Disco - Japan" as our member!! Meeting the Kinna sisters who run BLD Japan was like love at first site!!Collaborations on new and exciting projects in 2009 have begun. We thank "Baby Loves Disco" for their interest in our work!!

Nana & Marina Kinno who run Baby Loves Disco Japan
Find out more about Baby Loves Disco Japan here


February 13 2009
Dancing4Kids interview by Metropolis- Japan's No 1 English magazine:
After a journalist from the Metropolis magazine found a flyer describing one of our events held in November 2008 she was compelled to find out more about the work we have been doing. She contacted us for an interview and gave us the opportunity to tell our story to the English speaking community of Japan. We are delighted to share it with you again and we hope that this will spread more awareness about our activities and the people we are trying to support.
Read the article here

February 9 2009
We are very sad to announce that one of the best drummers of Japan, Shoji Fuji, also a good friend of Dancing4Kids that some of you have met died of heart attack at 1:00 am in his home. May his beautiful soul rest in peace.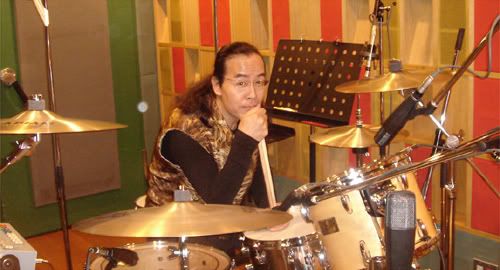 January 2009
Patrick Chamusso thanks Dancing4Kids for their pre-Christmas donation to the orphanage:
Letter of thanks Dancing4kids Jan 2009.pdf


December 2008
For general information about Dancing4Kids and achievements in 2008 please click below: (English)Dancing4Kids general info & achievements.pdf 日本語は下記PDFファイル参照 (Japanese)D4K DescriptionJap.pdf

November 2008
Newsletter from Two Sisters Trust & Orphanage for Aids Orphans:
November 2008 Newsletter from the Two Sisters.pdf


October 2008
Stuart-O interviews D4K's Chrissi Theodorakakos with Japan's most famous "human beat-box" AFRA on the radio (Metropolis Podcast) for the promotion of Dancing4Kids November events. We thank Stuart-O for giving us this great opportunity and for all his amazing support.